Scutum Group Joins Forces with Kiwatch to Develop New 'As A Service' Solutions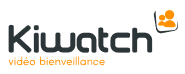 Scutum Group is pleased to announce that Kiwatch, a Video as a Service provider, has joined the group. The start-up, based in France, has developed a portfolio of video surveillance services in the Cloud targeting residentials and businesses. Founded in 2011, the company has rapidly expanded and today operates 30,000 connected cameras on its Cloud.
Kiwatch provides an innovative cloud video monitoring system for both residential and small business target. With this innovative plug and play security system, customers can secure their homes or businesses from anywhere, at any time. Kiwatch also offers a telecare solution through video to support dependent or elderly people living at home by themselves and ensure their welfare at all times.
Kiwatch has integrated artificial intelligence technology in several applications and this new partnership will enable to mutualise Scutum Group and Kiwatch's artificial intelligence development effort to continue to provide always more accurate and efficient solutions that respond to today's – and tomorrow's – customer requirements.
"As we continue to move towards a security predictive model, the integration of cutting-edge video analysis and intelligent video technologies will be crucial to deliver our services to all clients segment of the group", mentions Franck Namy, Scutum Group CEO. "Kiwatch brings to the group unique strategic capabilities in the 'as a service' range of solutions which we will enable us to significantly shift toward providing scalable levels of service to our clients, across our main business streams – Large Accounts, SMB and Installer Partners -, in addition to traditional product solutions."
"We are excited about this partnership with Scutum Group which marks a new milestone in our company's development," adds Olivier Blanchard, Managing Director, Kiwatch. "Scutum Group's 30-year expertise in security, its operational resources and the two companies' innovation-focused approach will be key in accelerating our development."
Scutum is now the first system integrator in the security industry to 100% own such a solution deployable with its unique brand. The new solutions 'My Scutum as a Service' for the residential segment and 'Scutum as a Service' for the commercial segment will be launched over the course of 2020.