Employee retention in an evolving world
By Christophe Pourcenoux, Group HR Director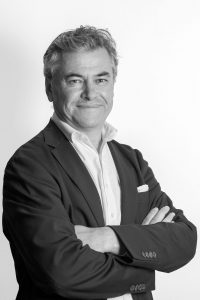 Q1. HR experts have been talking about the "Great Resignation" since Covid. What are the reasons behind it?
The 'Great Resignation' has occurred for a number of reasons, one such being a result of Covid and the many lockdowns it brought with it. People suddenly had time to rethink their lives, where they wished to be, both in their career as well as location.
Also, work/life balance became a new focus. This resulted in decisions of change with some completely altering career path and entering new industries. Our USA offices reported a mass exodus of people leaving New York City to move to the country, the same in London in the UK, creating a skills deficit in certain areas.
The second reason is more economical. There are more positions open than there are people searching for jobs, meaning companies are competing for employees. As a result, we have seen companies increase benefits to attract new employees, making it easier and more attractive to change jobs with better salaries, company benefits, flexible working etc.
Q2. How can we beat this "Great Resignation"? What can the industry do to improve the retention of employees?
The question of how we can beat the 'Great Resignation' is not an easy one to answer but the right salary and package are key. This is why Scutum regularly reviews salaries across the Group, ensuring they are aligned with market demand.
Paying attention to the quality of life at work is critical to retention, and behind that is the quality of managers in place, which affects employee operations. The proximity of the manager to their colleagues is important for them to understand the importance of their job in the group's strategy. It also helps understand problems and key issues, and this is why meetings should be organised on a daily basis.
It's vital to have a manager who is close to and cares for those under their management. This is a strong focus for Scutum Group and employee feedback surveys conducted in France, Germany and in the UK have helped us gain a deeper understanding of what we're doing right, and what can be improved, really listening to suggestions.
As a result, in France, a training programme for managers has been launched, which, by sharing best practices and other aspects, enables managers to enhance their managerial skills and best support their team. The objective is to roll this out across the Group.
Q3. HR teams across all industries are highlighting recruitment challenges. What are these challenges?
The world of recruitment has changed, with companies competing to attract applicants and promoting positions being recruited for. Previous generations' jobs evolved over time, and people were committed for the long term. But now, employees are searching for immediate rewards because they do not have long term future plans with a company. Employees want the right conditions which include salary, flexible working, and a greater work/life balance. It is now common for employees to change companies when they're ready to change jobs.
Q4. Are there industry-specific measures to tackle these? How do you see this evolving over the next few years?
Scutum Group believes in investing in people with the implementation of three strategic pillars empowering employees. Strengthening these thre main pillars, by leveraging the Scutum Academy's assets, increases the likelihood of a long and successful career within the company.
Firstly, a strong onboarding programme guarantees the quick evolution of skills. Secondly, a Continual Professional Development programme supports employees throughout their career, arming them with the right skills needed to feel fulfilled and happy in their work life.
Lastly, attracting and training entry level professionals help address the skills gap by introducing a new skilled workforce.
As for the future, we are likely to see an evolution in the balance between work life and private life as the post Covid work culture settles. Achieving a work life balance for engineers is still a challenge due to the nature of the role.
Q5. Managing a work life balance is incredibly important to sustaining a career in any industry. What measures do you think we will increasingly see in companies over the next few months/years as they try to retain employees?
The importance of the quality of managers cannot be stressed enough when it comes to retention as well as supporting employees achieve a work/life balance. A good manager who is demanding and caring greatly for the wellbeing of their team is often the reason for long serving employees. Managers play a vital role in enabling the work life balance, so increasing focus on manager training and supporting those individuals is important. An employee leaving is sometimes a reflection of internal difficulties with the manager and organisations need to be sure that the right manager is in place.
Q6. A huge focus is being placed on mental wellness in some industries that are beginning to create a strong culture of care. How do you think the industry should work on this?
Our UK offices have already established an employee support helpline which is completely independent of Scutum Group, providing counselling services and general advice. This is one course of action offering additional support that is already in motion across many other industries not just the Fire and Security industry.
Companies should also listen more to staff to understand pain points. Scutum Group have recently conducted a survey across some categories of employees in France, UK and Germany, checking the pulse of mental wellness amongst other areas, helping us identify further aspects we could support on.
To reiterate, a good manager who is close to their team can detect if something is wrong and should be the first to identify stress and offer support. Therefore, training managers to safeguard employees is an approach that the industry may also consider.
Overall, it's beneficial to have external and internal support solutions working holistically together.
Q7. I often hear the Fire and Security industry is quite segmented but in your opinion is there a future where all security and fire companies can work together, engineering a positive culture of collaboration, sharing best practice and new ideas in caring for and nurturing staff, which will ultimately attract future generations?
The idea of companies working together is positive. Sharing best practice and ideas in an industry HR working group would produce new innovative solutions that would build a more positive workforce across industry, resulting in new generations wishing to join this sector which would be beneficial for us all. However, the current competitive recruitment environment makes companies even more protective about their employee welfare strategies.